Actor/Comedian
Actor/Comedian with 25 years of experience, performed over 1,000 Comedy Shows, 5 feature length Movies and 8 TV shows and with over 39 TV commercials.
In Nickelodeon "ICarly", two episodes of season 7 Showtime "Weeds", 2 episodes of FOX "24" action TV show, and appeared on NBC "The Event"
An Actor in movies includes "50 First Dates" with Adam Sandler.
Peter was a regular comedian at the Improv, ths Comedy Store, the Ice House and the Laugh Factory.

A very talented Writer/Director, a very convincing comedic and dramatic Actor and always funny Comedian.
Writer/Director
Award winning script, Romantic Comedy feature film called

currently looking for funding.
Chinese version Website
"Saving Face" a true Documentary

A true Story which took 15 years to make. Peter Chen is an Award winning Film maker number one two years in a row (2000/2001) in a Film Festival: Documentary Catagory.
Click the picture to the left to view the True Documentary Film.
Tai Chi Instructions by Peter Chen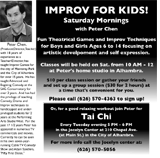 Tai Chi is the Chinese way to a healthier and longer life, Tai Chi has been practiced over a 1000 years and has evolved into different styles. Tai Chi is the path to health and wellness.
Tai Chi is one of the most effective way to develop a balanced body and mind. It develops:
Improves overall Body Health, Circulations, Flexibility, and Calmness of Mind !
Improves Muscle Tone, Strength, Co-ordination, Balance, and Agility !
Promotes Self Relaxation and Relieves Stress !
For those who wish to be healthier and live longer? Come for Tai Chi Class.
Tai Chi is also a soft martial art, a very powerful form of self-defense.